Download JXWorkBench
The JXWorkBench Enterprise Bundle is available for immediate download:

$US 9.95 Personal Licence
For an individual user

$US 485 Enterprise Licence
All users within the domain specified below:
---
Welcome to JXWorkBench
- affordable enterprise LDAP
JXWorkBench is an Enterprise bundle of the JXplorer Open Source LDAP browser with a number of convenient extensions for commercial directory administrators.
JXWorkBench includes the powerful Jasper Reports open source reporting engine and a set of extensible sample reports, available in web, MS office, pdf and other formats.
The JXWorkBench bundle includes:

Powerful custom reports for LDAP directories
Saving and importing csv files
Extended find and replace operations
A password vault for saving credentials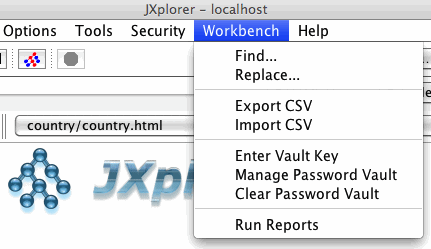 ---
Reporting
- customisable and multi-format
JXWorkBench allows you to create reports from your directory data, and save them in a wide variety of formats (including MS word and MS Excell, pdf, rtf and html). These reports can be run manually, or as batch mode scripts, and can be used to setup a regularly updated website, for data analysis, as reports for business etc.
A set of starter reports is included, including users by organisation, users by group, and some timed reports such as users created or modified within the last day / week / month / year, or all groups created or modified over the same time periods.
The reports extend the popular open source Jasper Reports engine to cover LDAP. New reports can be created either from scratch, or using the Jasper iReports graphical editor.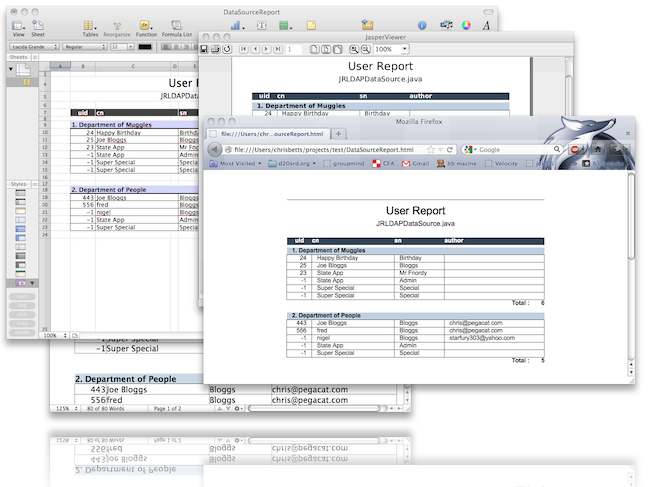 ---
Find and Replace
- with regexp
JXWorkBench includes a powerful Find and Replace tool that allows for global find and replace operations across a directory, optionally using regular expressions and cross-attribute value substitution.
This works even with un-indexed directories, and allows for complex changes to be made without large scripts or external file editing.
Additionally, regular expressions can be used for searching, and values from other attributes can be substituted into the replace expression. (We recommend previewing changes with the 'test' option before making large scale directory changes.)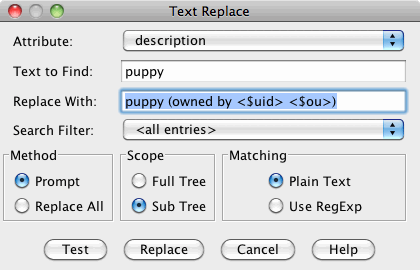 ---
CSV Import / Export
- with binary and multi-value attributes
As well as standard LDIF import/export option, there is support for csv import/export , allowing for export to spreadsheets (such as Excel) and database systems that can handle 'comma separated value' (CSV) files.
In addition to 'standard' csv characters, other character sets are supported, and pre-defined templates are provided for both 'standard' csv and Microsoft Excel.
User defined csv character sets can be constructed and saved for re-use later.
Binary values are supported for both import and export, as are multi-valued attributes, either as multiple columns, or as single columns with a separator character.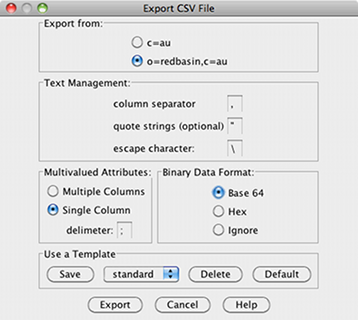 ---
Password Vault
Finally a Password Vault securely stores directory connection details without needing to re-enter passwords every time a directory is accessed.
Passwords are saved in a cryptographically secure password vault, allowing multiple directories to be easily managed without continually re-entering passwords.

---
Licencing
JXWorkBench is available either as an individual licence for (US) $9.95, or as an enterprise licence for (US) $485. Extended support options are available on request.
Personal licences are keyed to your email address ("user@example.com"), while enterprise licences cover an entire domain ("@example.com").
Updates to JXWorkbench will be made from time to time, usually at the same time as new JXplorer releases. Your JXWorkBench licence entitles you to a free upgrade for all 'minor version' releases; e.g. if you purchase JXWorkBench for JXplorer 3.3, your licence will be valid for the upgrade released with JXplorer 3.4. and 3.5.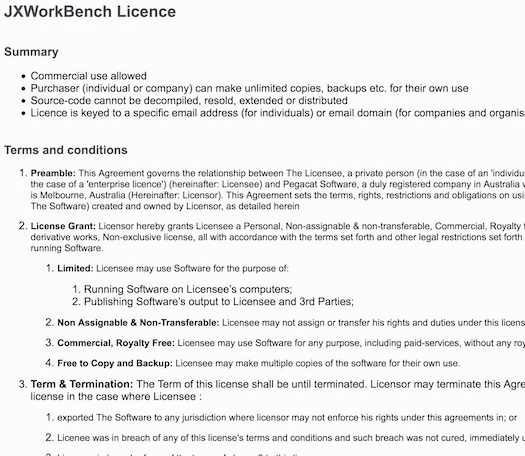 ---
Consulting and Support
JXWorkBench is produced by Pegacat Software (also the primary developers of JXplorer). We are available for custom directory and identity consulting, including JXWorkBench and JXplorer customisation and support, or general directory and identity system architecture, design and development. We have experience working with major financial, educational, government and defense organisations on all aspects of identity systems from minor application tweaks to major organisational change.
Please contact Dr Christopher Betts for further details.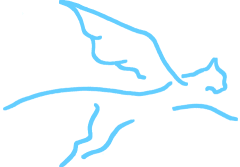 ---